The Crown star Jonathan Pryce told Newsweek the monarchy must stick to protocol because "if you bend the rules" it "will stop with the disintegration of the royal family."
While Pryce did not refer to it directly, Prince Harry and Meghan Markle's royal exit took place as they raged against aspects of the palace system, from suing the media using outside lawyers to publishing their exit plans on their own website.
Pryce stars in the upcoming final season of Netflix show The Crown as Prince Philip, who is at times presented as the voice of royal protocol.
And he told Newsweek that without the framework of rules within which the royals live their lives there could be dire consequences for the monarchy.
"It is unfortunate that a series of events, recent events with Harry and with William… there have been a series of unfortunate events shall we say, and they're played out against the background of this protocol," he said.
"You see it with, it's not just with Diana, it's with Andrew he's not allowed certain things, he's stepped beyond the bounds of protocol. He can't have the house that he wants to live in because he's not this, that and the other.
"It's a way that they've found to exist. They have rules, if you bend the rules where's it going to stop? And it will stop with the disintegration of the royal family. I mean, they exist because of their protocol. Their established protocol."
The Crown's Take on Half in, Half Out
In the show, Prince Philip is depicted telling palace staff that Princess Diana, who died in a Paris car crash in 1997, together with boyfriend Dodi Fayed, should not have a full royal repatriation after her death because she had lost her HRH [Her Royal Highness] title.
Queen Elizabeth II overrules him after a palace staffer notes they do not want her to be repatriated in a truck from Harrods department store, which at the time belonged to Fayed's father Mohamed Al-Fayed.
But there are frequent subtle nods to the present day, including Harry and Meghan's desire for a "half in, half out" system in which they lived abroad earning money in the private sector while still representing Queen Elizabeth II.
In The Crown, the queen is depicted saying of Princess Diana: "I always say it's hard to be half in anything. You're either in or you're out."
If Pryce is correct, then it suggests Harry and Meghan's own desire to continue serving the queen from the comfort of their California mansion could not have been accommodated without compromising the future of the monarchy.
The tension over the Sussexes' "half in, half out" approach reached a crescendo with their comments on the 2020 U.S. presidential election which they maintained were neutral but were perceived as breaching royal impartiality rules.
They were criticized by Donald Trump, and Missouri congressman Jason Smith wrote to the British Embassy in Washington demanding the queen strip them of their titles.
Harry and Meghan's Frustrations With Palace Rules
However, Harry and Meghan rubbed up against the royal rulebook before they even quit when in 2019 they hired their own lawyers to sue the British press, circumnavigating the palace reluctance for royals to testify in court.
Harry would later tell the High Court in a witness statement that the palace seeks to "avoid the situation where a member of the Royal Family would have to sit in the witness box."
And in January 2020, Harry and Meghan were accused of blindsiding the queen by putting their detailed exit plans onto what was at the time a newly launched website with little prior warning and at a stage when no formal agreement on their departure terms had been negotiated.
In The Crown's final season, though, it is Philip rather than palace aides who represents the orthodox royal philosophy in a context where the royals were heavily criticized after Diana's death.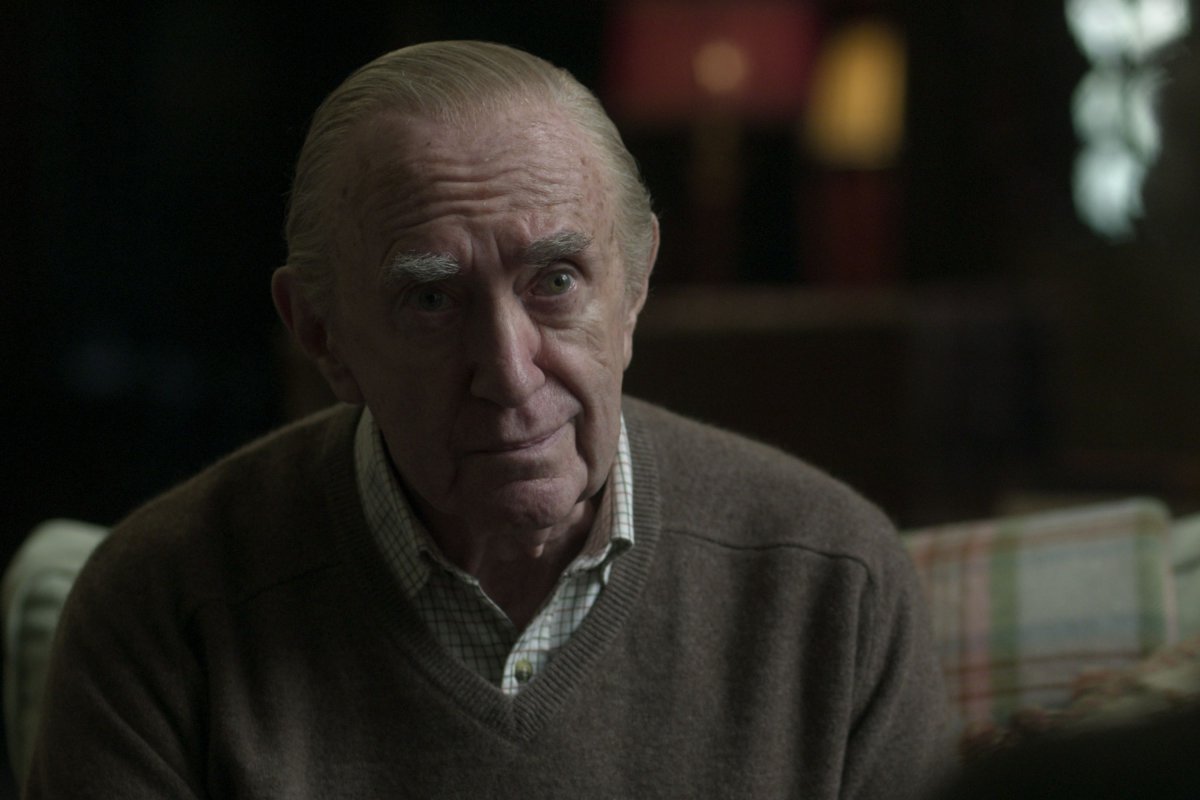 Prince Philip as The Crown's Villain
The queen, Philip and Charles remained at Balmoral, in Scotland, with William and Harry while on the streets of London there was an outpouring of public mourning.
A sea of floral tributes at the gates of Kensington Palace led to pressure from the media for the royals to show their grief.
"It's always good to play the villain whatever it is," Pryce said, "whether it's Prince Philip or High Sparrow [from Game of Thrones] or [Elliot] Carver from the Bond films.
"So those moments I enjoyed as an actor knowing that wasn't the popular view. There were times… I have to look at him not as a real person but as a character who is on the page created by Peter Morgan [creator and writer of The Crown] so I'm telling Peter Morgan's truth.
"I was quite angry with the royal family, as me, when Diana died, as were many people throughout the U.K., that they didn't have the right response to her death.
"They were basing it on—not that they didn't have an emotional reaction—but they were basing their reactions on protocol. 'This is what we have to do, because she is not HRH she cannot be seen to be afforded these privileges—it's setting precedent.'
"It's interesting to discover that about the royal family. Without protocol and without precedent they couldn't exist and they had to live by the rules.
"It informs how you think about them, yes, definitely. So I was happy to be made aware of those facts."
The Royals in Mourning
The build-up to Diana's death is the central story of the season's first part, due for release on November 16, while its second part will drop on December 14, exploring the aftermath.
Royal mourning was not only a key theme of the show but also dominated the real world of the monarchy when Queen Elizabeth II passed away in September 2022.
A year earlier, Pryce was also the first actor to play Philip in the series since his death in April 2021—when the queen's isolation at his funeral was also a huge symbolic moment in the collective experience of British people during the coronavirus pandemic.
"Philip's death, I have to be honest with you, I had a normal emotional reaction to his passing," Pryce said, "but my first thought was because I was playing him and bringing to the forefront things people didn't know about him.
"He was this enigmatic character who was always three foot[steps] behind the queen and very much in the background.
"His death meant he was going to be right in the forefront of people's consciousness and they were going to know so much more about him than they had before.
"I didn't know whether that was going to make my job more difficult or less difficult. Talking rather selfishly, but seeing film of the family's reaction to his death and seeing the interviews with his grandchildren and with Charles and with Anne, it gave me a lot of confidence in how I was thinking about Philip in that he was a grandfather figure to the family.
"And as such he was the mentor to many of them, he was a mentor to Diana we know. Seeing their reactions supported what I felt I was going to be doing or was doing as the character."
He also acknowledged Philip began as a mentor to Diana before becoming more hostile: "Yes because she didn't take my advice, or didn't take his advice. As a character on a page you could say he felt let down by the way she behaved.
"She was let down by Charles as we see in the series but that mentor figure happily continues through his [Philip's] relationship with her sons, William and Harry, which you see a lot of certainly in the second half of [season] six."
Philip, meanwhile, is a man who acts as much on instinct as rules: "That's certainly Peter Morgan's view. He's more in touch with his emotions in a way and does behave instinctively which in the past had led to him saying the wrong thing at the wrong time.
"But I think he's a very wise figure and that was his role within the family, was to be thinking on the front foot."
Jack Royston is chief royal correspondent for Newsweek, based in London. You can find him on Twitter at @jack_royston and read his stories on Newsweek's The Royals Facebook page.
Do you have a question about King Charles III, William and Kate, Meghan and Harry, or their family that you would like our experienced royal correspondents to answer? Email royals@newsweek.com. We'd love to hear from you.
Uncommon Knowledge
Newsweek is committed to challenging conventional wisdom and finding connections in the search for common ground.
Newsweek is committed to challenging conventional wisdom and finding connections in the search for common ground.