Key events
And with that, I think I'm done.
Max Verstappen, again, reigns supreme. There was chaos. There were thrills, spills, and everything in between. But there was always Verstappen. Refusing to be denied again. Leclerc battled hard and stole second but, for him, the pole woes continue – just when will he be able to turn one of those fine qualifying performances into another appearance atop the podium? Perez is forced to make do with third-place but in finishing clear of Hamilton he's all but guaranteed himself second-place in the driver's championship.
Just one more race to go this season, with the eyes of the world now turning to the Yas Marina Circuit in Abu Dhabi for the final race of the season next weekend.
My name's been Joey Lynch, thank you ever so much for keeping up with the Vegas GP with me. Make sure you check back in for Giles Richards' full report. Thanks and success.
Verstappen lifts his 18th trophy of the season. We're going to need to find some other kind of superlative because dominant isn't really cutting it.
Red Bull has now set the record for the most wins in a single season with 19, breaking Mercedes mark – only Ferrari on a single occasion denies them this season.
Time, now, for the anthems. And again, it's the Dutch anthem ringing out as Verstappen takes out another race, followed by the Austrian one for Red Bull.
Verstappen to Coulthard: "It was a it was a lot of fun there. With the DRS, that helped a lot for very good racing air. Also, I think the low degradation with the tarmac here, you could really push on the tyres, which I think was good. It was a lot of fun out there.
"A great crowd. I hope everyone enjoyed it a bit. We definitely did. So already. excited to come back here next year and hopefully try to do something similar."
Leclerc speaks to David Coulthard: "I mean, what a race! Honestly I enjoyed it so much. I'm of course disappointed to only finish second but at the end, that was the best we could do. At the start, it was very tricky because I think Max on the inside, lost a little bit of grip and broke me on the outside but then we had the place, we passed him back, and we were we were really strong overall.
"That was a really good race. We got a bit unlucky with the safety car. We didn't pit because we didn't know what the others will do. And we went for track position and keeping that first place and that was difficult with the older tyres towards the end. But second place with a lot of fights. Honestly, I enjoyed it."
The Podium finishers have been taken in a Rolls Royce to the Bellagio. As you do in Vegas.
How it finished in Sin City
1. Max Verstappen (25 Pts)
2. Charles Leclerc (18)
3. Sergio Pérez (16)
4. Esteban Ocon (12)
5. Lance Stroll (10)
6. Carlos Sainz Jr (8)
7. Lewis Hamilton (6)
8. George Russell (4)
9. Fernando Alonso (2)
10. Oscar Piastri (1)
11. Pierre Gasly
12. Alexander Albon
13. Kevin Magnussen
14. Daniel Ricciardo
15. Zhou Guanyu
16. Logan Sargeant
17. Valtteri Bottas
DNF: Lando Norris, Nico Hulkenberg, Lando Norris
The Red Bull garage plays Viva Las Vegas on Verstappen's radio and asks if they should call him Elvis, one wonders if they're poking fun.
Yeeehaw says Leclerc as he reacts to taking second. He wanted that win badly – his inability to turn pole position into a win now extends to twelve – but it was a fantastic drive from the Monégasque to stick with it after being overtaken on turn one.
That move to overtake Perez on the last lap was immense.
Max Verstappen wins the Las Vegas Grand Prix!
He may be absolutely no fan of this track at all but Verstappen has won the Vegas GP; extending his record setting season — he's won 18 races this season and it's his sixth in a row.
But it's Leclerc that steals the show!!! He darts past Perez at the last to steal second place away and deny Red Bull a one-two! It was his best lap of the whole race and he takes away second at the last! What a grandstand finish!
Lap 49/50: Penultimate lap in the books – Verstappen leads from Perez, Leclerc, Ocon, Russell and his five-point penalty, Stroll, Sainz, Hamilton, Alonso and Piastri – who as forced himself past Gasly and into the points.
Lap 48/50: Sounds like it will be Justin Bieber waving the chequered flag. Oh baby, baby, baby oh.
That was a bit much, I'll admit. Is it too late now to say sorry?
Verstappen leads, followed by Perez and Leclerc. And we've had another retirement, Tsunoda rolling off.
Lap 47/50: We have another retirement! Just the second one of the race as the Haas of Hulkenberg limps off the track – far away enough from the track that there won't be a safety car.
Verstappen and Perez are out in front, with Leclerc half a second back of the Mexican.
Lap 46/50: Callers confirm that Russell still has a five-second penalty hanging over him, pontificating if his team may have forgotten that since they've told him that they're still targeting fourth.
After starting in 16th, Ocon remains in fourth at the moment, just about a second clear of Stroll. Hamilton goes past Alonso and into eighth position.
Lap 45/50: As we enter the final laps, Verstappen leads from Perez, Leclerc, Ocon, Stroll, Russell, Sainz, Alonso, Hamilton, and Gasly.
Lap 44/50: Piastri is forced to pit and emerges out of the points, on the rear of the eleventh-placed Albon.
Lap 43/50: Leclerc with a silly mistake and that allows Perez darts past him. We have a Red Bull one-two with Verstappen still leading.
Lap 42/50: Verstappen leads Leclerc and Perez. Piastri in fourth, Ocon fifth, Stroll sixth, Gasly seven, Russell (with a five-second penalty hovering over him) eight, Sainz nine, and Alonso ten.
Lap 41/50: The gap is continuing to grow between Verstappen and Leclerc, almost at two seconds now.
News also coming through that Norris has been taken to a medical centre as a precautionary measure.
Lap 40/50: Sainz and Alonso move past Albon, as does Hamilton.
Verstappen still leads and he's pulled away from the DRS range of Leclerc.
Lap 39/50: Hamilton has moved into twelfth position, behind a train of cars that starts with Russell, and also features Albon, Sainz, and Alonso.
Lap 38/50: So Verstappen leads, Leclerc in second, Perez in third, Piastri still needing to pit in fourth, Ocon in fifth, Gasly is sixth, Stroll seventh, Albon at eight, Russell is ninth, and Sainz rounds out the top ten.
Lap 37/50: Rhianna watches on from the Ferrari dugout as Verstappen moves past Leclerc and into first-place!
The Red Bull garage tells Perez to stay with Verstappen, looking at trying to fashion a one-two, but he'll first have to get past that Ferrari.
Lap 36/50: Perez has gone from leading Leclerc to first falling behind the Monégasque and now being overtaken by Verstappen! First to third in an instant.
Lap 35/50: Leclerc has re-taken the lead! Perez is seemingly caught napping and the Ferrari moves past the Red Bull!
Lap 34/50: Perez leads from Leclerc, followed by Verstappen, Piastri, Ocon, Gasly, Albon, Stroll, Russell, and Sainz.
Lap 33/50: Verstappen, having served his five-second penalty already, is now up into third-place, with a Red Bull one-two coming into focus.
The two Alpine cars are doing battle for fifth, with Ocon now moving past Gasly.
Lap 32/50: Perez finally overtakes Leclerc! With nothing but clear track in front of him, the Red Bull man needs to get a move on.
Versappen gets his overtake and moves into fourth behind Piastri, who is going very fast but is going to be forced to pit at some point because he's only raced on two hards so far.
Lap 31/50: Verstappen is all over the back of Gasly but the Alpine driver sees him off for now.
Leclerc is holding off Perez, for now.
Lap 30/50: Despite all the bang, crash, wallop that's been on show thus far, there's still been only one retirement thus far in the race in the form of Norris.
Leclerc, Perez, Piastri, Gasly, Verstappen, Ocon, Albon, Stroll, Russell, and Sainz is the top ten.
Lap 29/50: Piastri moves up into third with an audacious overtake, moving into a podium place behind Leclerc and Perez.
Lap 28/50: The safety car is in and it's Leclerc (one stop) who leads from Perez (2), Gasly (1), Piastri (1), Verstappen (2), Ococ (1), Stroll (2), Albon (1), Russell (2), and Sainz (2).
Russell has been given a five-second penalty for his clash with Versappen.
Lap 27/50: There's another safety car out there to help deal with debris and Perez darts into pit lane straight away to take advantage for a second time – re-emerging in second on hard tyres.
Verstappen is also in there for his second stop – the safety car possible coming out at a very good time for him – and comes out in fifth place. But the stewards are investigating his collision with Russell.
All the leaders are on the hard tyres down to Guanyu in 13th place.
Lap 26/50: Verstappen is asking for an update on his tyre and front wing, told to stay out there by his team. Replays show he darted up Russell's inside and there was some decent contact as they prepared to head up the Strip.
Lap 25/50: How far can Perez go after his early stop? He's still well out in front at the moment, ten seconds clear of Leclerc, who has gone past Stroll.
Verstappen goes past Russell but there's contact! There looks to be damage to that Red Bull!
Lap 24/50: Sainz, Russell, and Verstappen are all tooing-and-froing in the battle for fourth, fifth, and sixth.
Sainz then loses two places in one straight! Russell moves into fourth, Verstappen fifth, and the Ferrari is now sixth.
Lap 23/50: Vertappen finds himself in sixth behind Russell as we approach the halfway point.
Perez maintains his lead, followed by Stroll, Leclerc, and Sainz.
Lap 22/50: Leclerc has come out of pit lane in third position, just about ten seconds behind Perez but needing to get past the Aston Martin of Stroll.
Lap 21/50: Leclerc comes into the pits so the Red Bull of Perez takes the lead.
Lap 20/50: Ocon comes into the pits, putting on a set of hard tyres.
Leclerc is getting some reminders from his pit to look after his tyres, hinting at a one-stop strategy.
Lap 19/50: Leclerc has a lot of space between him and Perez, but the latter has already pitted during the safety car period.
Lap 18/50: Leclerc leads, followed by Ocon and Perez. Stroll in fourth, followed by Sainz, Guanyu and Russell. Verstappen ninth and Gasly rounds out the top ten.
Most of these cars are yet to pit.
Lap 17/50: Several cars are taking the opportunity to pit, with Hamilton forced in to replace a punctured tyre after failing to overtake Piastri – losing several positions before he can get into pit lane.
Leclerc re-takes the lead!
Lap 16/50: Leclerc is back in front of the Las Vegas GP!
He gets past Verstappen just before the Dutchman pits, with the Ferrari staying out there and extending his lead!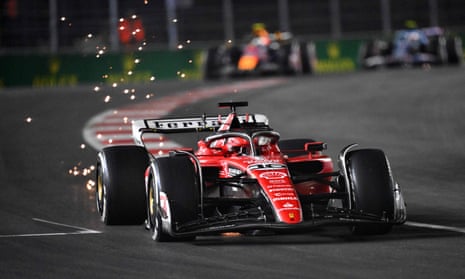 Lap 15/50: Leclerc is gaining on Verstappen — the Ferrari right on the back of the Red Bull around the Vegas course and demonstrating that its speed in qualifying was no fluke.
Lap 14/50: It's a good night for Alpine, Gasly is pushing hard to move into third while Ocon has gone from 16th at lights out and is now all the way into sixth!
Sargeant in his Williams is starting to struggle, he's fallen into ninth position.
Lap 13/50: Sainz is being told that he needs to cool the car down as he gets past Ricciardo and into 14th. He's been surrounding by a lot of traffic at the back of the field.
Verstappen still leads from Leclerc but he's not moving away from the Ferrari – it's still less than a two second gap.
Lap 12/50: Hamilton starting to make his way through the field, trying to overhaul Piastri for eighth position as Magnussen slips to tenth, overtaken on the outside.
Perez moves past Hulkenberg for twelfth.
Lap 11/50: The cars that have already been forced to pit are staging their own little battle toward the rear of the field, with Sainz moving past Alonso into 16th.
Lap 10/50: An email! Hugh with his thoughts on Verstappen:
"Classic Verstappen move. Go too fast into the corner in order to get your nose ahead and then run the other car off the track because you obviously can't make the corner. Then claim, "I was ahead!"
"No Max, you're not ahead if your apex speed is far too much to actually make their corner. You're just saying "Get out of the way of me going off the track and not making the corner or take a crash". All the drivers know what he's doing and it's not hard driving, it's cheating."
Lap 9/50: Verstappen gets the heads up that he's got a five-second penalty to serve. Already two seconds clear, he says to give them his regards as he sets another fastest lap.
Piastri is now into eighth… no, Magnussen has it back.
Lap 8/50: Out in front, Verstappen sets a new fastest time of the race so far at 1:40:142.
Lap 7/50: Verstappen still leads and won't have to give back the positon but the word is coming through that he's being hit with a five second penalty next time he pits. He's followed by Leclerc, Russell, Gasly, Albon, and Sargeant.
Piastri has done very well to move up to 10th from his initial start of 18th, into the points.
After a couple of safety car laps, drivers are working very hard to try and bring their tyres up to temperature.
Lap 6/50: The safety car has come back in and we are racing again in Vegas.
Verstappen's team letting him now that the stewards are not going to make him hand the place back… I think? They also said they'll leave that with him.
Coverage is suggesting that he should give it back but one doesn't imagine he'll be in a hurry to do so.