In the latest edition of Elon Musk's plan to turn X, formerly Twitter, into what he calls an "everything app," the platform released a job search tool on Friday (Nov. 17) promising listings for tech roles.
What inspired Elon Musk's design for Tesla's Cybertruck?
But the interface is bare-bones so far—and is mostly populated with jobs from Musk's own companies. Roles at Tesla, SpaceX, and Starlink all feature prominently. Some tech startups, along with larger companies like Peloton and Netflix are thrown in the mix, too. And the "Apply now" button simply takes you externally to the listing company's application page.
Back in August, Musk had promised his LinkedIn competitor would be "cool," adding that the long-established career platform's "cringe level is so high."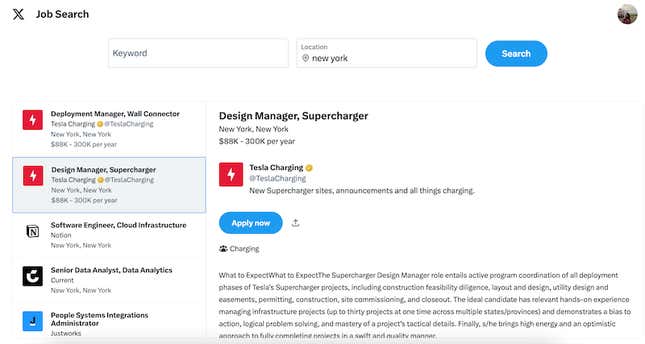 The company has also been testing out "job cards," where openings can be cross-posted on X feeds to generate more views.
As the company sets forth its ambitions for becoming a superapp, it's began expanding the types of data it gathers on users. The platform quietly updated its privacy policy in August around user data, adding biometric information, employment history, and education background into the mix. It remains to be seen whether users who don't plan to use X's job services could opt out of having their data collected and shared with potential recruiters.
Similarly, when Musk floated a pilot program to get users to pay $1 a year to prove they're not a bot, critics speculated the real aim was gaining credit card data, which would fold into Musk's ambition to add financial services onto the platform.
Quartz has reached out to the X privacy team for comment, and will update this post with any response.