Hello, fellow humans! You're reading our limited series of Saturday Daily Briefs. While it's focused on AI, it's curated, written, and edited by actual people.
Got some questions about AI you'd like answered? Or just some AI hallucinations you'd like to share? Email us anytime. Enjoy!
---
Here's what you need to know
Sam Altman is out as CEO of OpenAI. CTO Mira Murati is stepping up to be interim CEO, effective immediately, said the company's board in a blog post, which also said that Altman had not been "consistently candid in his communications with the board."
YouTube is testing AI tools that clone pop stars' voices. Nine artists, including Charli XCX, Troye Sivan, T-Pain, and Sia, have agreed to let their voices be used by software.
…YouTube will also soon require creators to disclose when content is AI-generated. The creators who don't do so will face penalties; this follows similar moves made by Google and Meta.
Google has delayed the launch of its large language model Gemini. Originally expected to be available by November, the LLM is now expected to be released in the first quarter of 2024, according to an Information report.
AI now outperforms conventional weather forecasting. The AI model, from Google DeepMind, can predict weather around the world up to 10 days into the future better than conventional methods.
---
Tech giants want to meet the AI chip demand
Companies have been scrambling to secure Nvidia's AI chips to power their own generative AI products. The steep need for its high-performing technology has been a revenue boon for Nvidia—and other companies want in on that.
Microsoft is joining other big tech companies that are on a mission to make their own chips so they don't have to rely as much on Nvidia and its coveted technology. Microsoft said last week that the new Azure Maia AI Accelerator and Azure Cobalt CPU will roll out early next year to the company's data centers, and second generation versions of them are already in the works.
Homegrown AI chips aren't necessarily new to Big Tech companies. Amazon and Google have been selling theirs since 2019 and 2018, respectively. But what's changed is demand.
---
Speaking of chips, OpenAI's latest batch says something about the future of AI
OpenAI's now-former CEO Sam Altman revealed last week that the company did indeed nab a fresh order of Nvidia's $40,000 H100 chips.
The procurement of more chips from OpenAI signals that more sophisticated AI models, which go beyond powering the current version of chatbots, will be ready in the near future. The H100 chips will help power the company's next AI model GPT-5, which Altman said is currently in the works. It also points to OpenAI being closer to creating artificial general intelligence, or AGI, which is an AI system that can essentially accomplish any task that human beings can do. Well, you know. Any task within a certain genre.
But outside of OpenAI's own operations, if the company was able to obtain its order, perhaps the tide is finally turning, and the flow of chips to AI businesses is improving.
---
One thing that's not improving: Signing up for ChatGPT Plus
After OpenAI announced a suite of new features for paying subscribers, including new functionality that allows those users to build their own chatbots, it paused new user sign-ups for ChatGPT Plus.
The membership tier, which costs $20 a month and now gives subscribers access to GPT-4, GPT Builder, and DALL-E 3 saw a surge in interest following its debut that exceeded what the platform could handle.
Overwhelming sign-ups aren't the only thing ChatGPT has attracted. It's also seeing more cyberattacks. Days after the developer conference Nov. 6, ChatGPT experienced outages and abnormally high traffic, raising questions about the chatbot's security.
---
Other great AI reads
🧭 ​​AI is headed where the money is: asset management
👀 Corporate and global leaders are peering into a future that, for better or worse, is expected to be reshaped by AI
🤖 All the AI assistants and me
🗳️ The UK's cybersecurity center said that "deepfakes" and other AI tools will pose a threat to the next election
🤔 Why tech giants are hedging their bets on OpenAI
---
Ask an AI
This week we explored OpenAI's DALL-E 3, which is now integrated into ChatGPT 4 (available only to ChatGPT Plus members). The new image generator iteration is noticeably more powerful—but it's the combined interface itself that opens up far more use cases.
Inspired by our latest Weekly Obsession on Cheez-Its, we asked ChatGPT to design us a recipe for a spherical cheese cracker, complete with DALL-E generated image. (However, we humans strongly advise you not to trust any AI-generated recipe.)
Inside the interface, we cycled through a few rounds of names for our new product, fine-tuning our options until we arrived at "Opal"—a sophisticated moniker for our spherical cracker that we felt fit right into a high-end boulangerie. Now we just needed a logo. We asked DALL-E to present us one in black, white, and orange.
Here's where things broke down a little. DALL-E, rather frustratingly, can't make edits on an existing image—it'll only generate a brand-new one. Maybe one day. But we ultimately ended up with a good picture of a box of "orpable spherl cheese" Opal crackers, arranged on chic display at a store.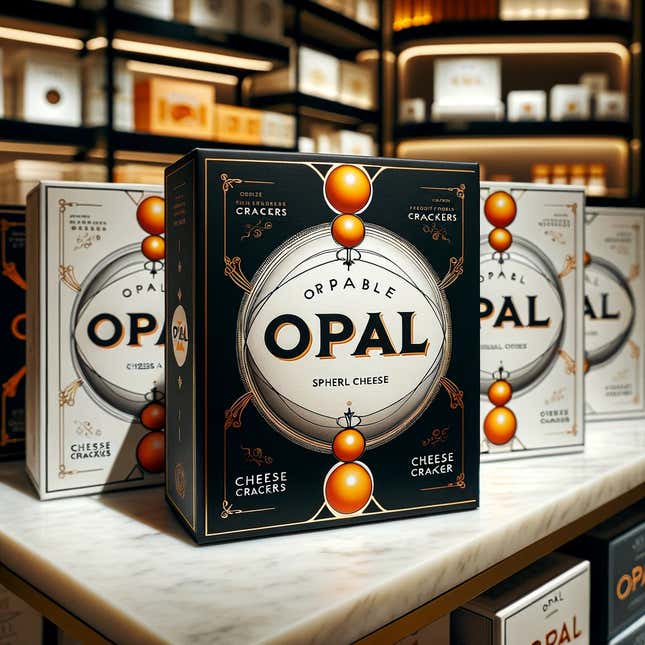 Don't look for it in stores. DALL-E 3 did everything but generate the startup capital.
---
Did you know we have two premium weekend emails too? One gives you analysis on the week's news, and one provides the best reads from Quartz and elsewhere to get your week started right. You can get those by becoming a member—and take 20% off!
Our best wishes for a very human day. Send any news, comments, orpables, and spherls to talk@qz.com. Reader support makes Quartz available to all—become a member. Today's AI in Focus Daily Brief was brought to you by Michelle Cheng, Morgan Haefner, and Susan Howson.