On my daily trundle down my local high street, I've been marking the changes as shopfitters swoop in with pink or white or glittery shop furniture. Almost every new shop in this corner of north London seems to be a teen- and family-friendly cafe selling bubble tea, sweet fluffy pancakes, ice-creams or desserts with names such as "choco coma". Sugar is cheap, so the shopkeepers need to sell a lot of treats to make it pay. Fortunately for their business model, but unfortunately for the nation's health, Britain consumes twice as much sugar as it should.
I tut inwardly at these signs of our sugar addiction as I enter Sainsbury's to stock up on baking ingredients: icing sugar for coffee cake, muscovado and caster sugar for that amazing caramelised apple cake recipe I've found; golden syrup and treacle for winter-friendly gingerbread.
Traditional treats from other cuisines suggest that this hankering for sugar is not entirely natural. Recently, staying in a Hong Kong skyscraper hotel, I was offered a "colonial-style afternoon tea" replete with candy-like cakes and patisserie that even my sweet tooth baulked at. I went instead to a traditional Chinese teahouse and joined Hong Kong residents and tourists from mainland China enjoying green, yellow, white or black tea with savoury dim sum in which sugar, if there at all, was used as a flavour enhancer. As the food writer Fuchsia Dunlop explains in Invitation to a Banquet, sugar in Chinese cuisine is used "as a general seasoning, like soy sauce and vinegar, perhaps to 'harmonise the flavour' of a stew or balance a sweet-and-sour dressing". This was its role, too, along with other precious spices, in medieval England. In sweet and sour meat dishes a little sugar and raisins, spices and pepper set off the astringency of wine or vinegar; "tart de bry"' (medieval brie tart) was seasoned with ginger, sugar, saffron and salt, whereas dishes of quince or cherry often relied on the fruit's natural sweetness alone. Later, as sugar imports from north Africa grew, so did sweet treats – suckets, marchpanes, breath-freshening confits – but only for wealthy adults such as the notoriously black-toothed Elizabeth I. These status symbols were far too costly to waste on children or workers.
Historians of sugar, beginning with Sidney Mintz's landmark 1980s study Sweetness and Power, have noticed that the way children and nations become addicted to sugar follows similar paths. Just as a little sugar in an infant's diet trains the child to become dependent on it throughout life, as an emotional reward and physiological prop, successive governments grow to rely on the fortunes the sugar trade makes, both for economic reward to its citizens and to bolster the nation's power in the world. On the other hand, there have been plenty of appalled warnings about the health risks to children at home and the moral peril of enslaving people to produce sugar abroad. How, then, did the business of sugar come to exert so strong a hold on us all?
In the early 17th century, when England asserted its colonial heft across what became known as the Sugar Islands of the Caribbean, it began to ship semi-processed sugar cane back to the British Isles as part of the shameful triangular slave trade between Europe, Africa and the Americas. Sugar became central to England's political project; a public-private partnership to support planters and augment wealth at home and power abroad. As supply and strategic importance increased, its supporters set out to change its image from an unhealthy but occasional treat to a food in its own right. Unlike the high-status treats of the previous centuries, this new "food" was deemed particularly appropriate for the weakest members of the household – children and women.
Just as the food industry today commissions, funds or promotes "research" that conveniently shows, for example, that ultra-processed foods are healthy, a similar fight began in the early 18th century. Doctors began to be anxious about how this increasingly consumed substance related to overeating and diabetes. We do not know if the physician Frederick Slare was paid by the sugar lobby, but the modus operandi of his A Vindication of Sugars (1715) is now wearily familiar: refute observations as "common prejudices" and counter them with fake science. Sugar doesn't rot children's teeth, Slare said: to prove it, he rubbed his own teeth and gums with it for a few days. You only have to watch an infant greedily sucking down a sweetened pap (water mixed with flour or breadcrumbs) and making faces at the unsweetened one, he added, to know that it was a natural taste. Slare dedicated his book "To the Ladies", who were (so he and many after him assumed), along with children, sugar's natural allies.
Further proof, for Slare, of sugar's health-giving virtues was that it made people very rich. The "West Indian merchant" and others of lowly background brought home their new wealth, enriching the country as they "purchas'd and do daily purchase great Estates", while the Grocer and his family would welcome his intervention, he argued, because sugar had made them "rich and wealthy".
This was a foundational virtue for those men of letters (and occasionally women) who started to share new ideas through books on science, farming, economics, politics, gardening and cooking. They began to frame food production (principally beef and sugar) in terms of what the nation needed for its wealth, not what the body needed for its health. The ancient axiom that food was medicine started to be dismantled. Today this is made conspicuous by the number of medicines that are being prescribed to counteract the ill-health caused our high-sugar diet, the latest being drugs such as Ozempic.
As sugar imports trebled in the last decades of the 17th century and the prices fell, liberal thinkers struggled to reconcile children's appetites for new confits, cakes and sugary infant formula with the morally troubling origins of "slave-grown sugar". While John Locke rather feebly decided to "leave that to the ladies", and Jean-Jacques Rousseau insisted that the duty of wives and daughters was to be sweetly subservient, Mary Wollstonecraft denounced the vicious triangle between the substance and what it stood for: slavery in the plantations and despotism in the domestic home. "Is sugar always to be produced by vital blood? Is one half of the human species, like the poor African slaves, to be subject to prejudices that brutalise them?" she demanded in A Vindication of the Rights of Women.
What was the government's role? Beginning with the Royal African Company, established in 1660 by the Stuart royal family and London merchants to capture, enslave and sell people from West Africa to the Caribbean, Britain's ruling bodies have been heavily involved in the sugar trade. The governments of Britain's growing empire aimed to keep the powerful plantation owners on side. As Eric Williams famously argued, the slave trade (in 1807) and slavery within the British Empire (in 1834) were only abolished once the economic might of the sugar barons began to wane, thanks to the growing availability of alternative sources of sugar. Successive governments maintained the flow of cheap sugar into the country by a combination of taxation, subsidies, tariffs and international trade agreements. The sugar tax was repealed in 1874, partly due to a campaign (by sugar merchants among others) that the poor should fully benefit. This Victorian free-trade argument for sugar as a necessary food went unchallenged until the minor provocation of the Soft Drinks Industry Levy in 2018. Sugar was the fossil fuel of its day, oiling and speeding up the wheels of daily life until it became indispensable to the nation.
There was one key difference: our early adoption of fossil fuels did not come with the kind of moral and health warnings that sugar did. Abolitionists encouraged purchasers, particularly women, to boycott slave-grown sugar and children to abjure it. There was also a strong medical resistance to giving children any kind of sugar. The Northampton physician James Hart warned as early as 1633 that they must be protected from a substance that "heateth the blood", "rotteth the teeth" and caused bad breath. As for babies, Dr William Buchan noted in his groundbreaking 1769 book, Domestic Medicine: "It entices them to take more than they ought to do, which makes them grow fat and bloated. It is pretty certain, if the food of children were quite plain, that they would never take more than enough."
But, "taking more than enough" was a necessary prerequisite for the economic health of the sugar barons and the refineries on British soil. Trade trumped health, just as it did – and does – in the alcohol and tobacco sectors, whose sugary alcopops and sweet, fruit-flavoured vapes inevitably make customers out of children as well as young adults.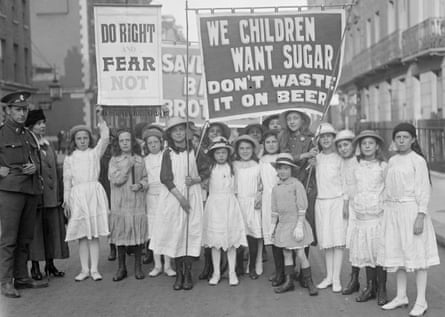 As technology and the slave trade developed, plantation sugar production outstripped the demand from a small pool of upper- and middle-class women and children. A new market was needed. Two 20th-century parallels suggest that markets can, indeed, be deliberately engineered. Fried chicken shops were designed to start shifting the extra meat suddenly available when an American businessman discovered that he could separate chickens into egg-layers and meat-producers in intensive battery farming methods. And the policy of free school milk in Britain's schools was initially designed to take care of the excess production once the Milk Marketing Boards established price guarantees in the 1930s.
Britain's rural poor traditionally survived on bread, cheese, oatmeal and beans, resorting to what were called "bread riots" (but were closer to price-fixing negotiations) when these became exorbitant. From the early 19th century this began to change. As the English peasantry moved to industrial cities, the price of sugar fell, becoming affordable for the working poor. Hot, sweet tea turned a dull cold meal into a stimulating warm one; cheap jam and molasses or syrup on bread became the new staple. Breastfeeding for the poor began to decline as women had to swap cottage industry for factory work, and children fed on sweetened paps readily took to low-cost, instant highs.
After Buchan's death, his editor changed the advice of Domestic Medicine to recommend "a little moist sugar" to sweeten the pap advised for babies. Henri Nestlé's instant baby formula of dried cow's milk, processed wheat flour and sugar, launched in 1867, found a ready market in Britain; Mrs Beeton advised sweetening "farinaceous" (starchy) baby food. The idea that sweetened milk is good for both babies and commerce lives on today in the sickly milky liquids or semi-liquids such as fruit yoghurt and fromage frais marketed at the very young.
The notion of sugar as a treat or prop for women and children found a new rationale in poorer working families where protein (a kipper, a boiled egg, some bacon) was saved for the male breadwinner of the house. As treacle on porridge or cheap jam on bread, it helped these less palatable carbs slip down more easily. It plays the same role in ultra-processed food today, in which carbohydrates such as breakfast cereals or burger buns are loaded up with added sugars. Whole families kept going with sweetened tea. By the mid 19th century the nation was largely addicted to sugar; its economy ran on the people who ran on its empty calories.
Just before the first world war, Seebohm Rowntree and May Kendall interviewed working-class families about how they got by. Mrs Bell in Berkshire told them why she disapproved of jam for her six children. "If they eat jam, it includes more bread – they eat more! If I cut a slice of bread and put margarine on it, maybe two slices will do; but if I put jam on it, it'll be: 'Mummy, give me another slice.' That's my conclusion about jam." Like Dr Buchan before her, Mrs Bell was on to something. Sugar makes you eat more.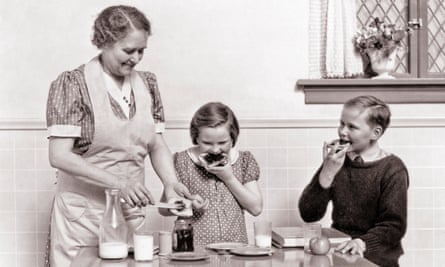 As with any addictive drug, the more sugar you consume, the more you want. We crave the sugar high – the dopamine hit. The marriage of caffeine and sugar is blessed by manufacturers because the bitterness of caffeine (in cola, chocolate or coffee, for example) masks the sweetness of the sugar. Manufacturers can smuggle more sugar past our taste receptors, to give an outsized sugar rush, which we want to return to again and again. Taste the feeling, as Coca-Cola says, with no irony whatsoever.
The second part to the mechanics of overconsumption is that the more you eat the more inured you become to its sweetness. Give sugar up for a few days, then have a few biscuits from a packet and it is likely that they will just taste … sweet. Once you stop being desensitised, the sweetness will dominate any other taste.
Whether by deliberate design or unforeseen consequence, over hundreds of years the sugar lobby has engineered a British – and American – palate that is hooked on the taste for sugar, a pattern that is being repeated throughout the world. Taiwan, for example, primed on sweet tea from Europe and cola from the US, returns the favour in the form of bubble tea.
What is not in doubt is the engineering that takes place in contemporary food manufacture today. Much of the sugar we overconsume today is in the form of glucose (also called dextrose), maltose, fructose, corn syrup, all of which have been developed to hit that "sweet spot" efficiently and cheaply. These form one of the three pillars of ultra-processed food, which depends on sugar's addictive qualities to drive consumers to eat more calories than they need – 500 per day more, according to an oft-quoted experiment.
Nor is there much doubt about the effectiveness of the social engineering that advertisers use to push sugar laden-products through television and social media advertising, product placement, packaging, or sponsored events. As most carers will be only too aware, much of this bombardment is aimed at children. Parents, primarily mothers, are expected to please, cajole and reward children with sweet snacks and drinks yet also keep them healthy. For a quarter of children in Britain, the former pull is overwhelming the latter so much that they are beginning to be locked into a lifelong cycle of food-related ill health.
I love sugar. The sight of a cafe raises my spirits. I love baking (and Bake Off). Tea and gingerbread, an ice-cream on the beach, a pudding (with custard) on a winter's evening – these are my props and rewards. I'm trying to figure out how to keep on friendly terms without getting trapped into sickly dependency. As Mary Wollstonecraft warned more than 200 years ago, being beholden to sugar is a form of bondage.