Rodney Ali, an avid e-scooter rider in Melbourne's eastern suburbs, has clocked up 2,750km on footpaths and bike tracks on his Veloz X1, with Penny the kelpie racing alongside him. Ali loves his marathon scooter rides, except for one thing: his interactions with cyclists.
"Ninety-nine per cent of people on foot are great. I always ring my bell so they are warned. I always slow from 15-20 metres away and pass just above their speed," he says.
"But cyclists on bike paths are by far the worst. They often travel around 50km/h and pass without warning. I've had many encounters with cyclists and many of them escalated the situation by acting so entitled."
Carol Cooke, a former paralympian and regular trike rider in inner-city Melbourne, sees it differently. To her, e-scooters are something of a menace in bike lanes.
"I have had scooters going the wrong way in the bike lanes. Other times they fly by me – there is no warning, no bell or voice to say passing and that is annoying."
As the use of e-scooters increases across Australia, so too does the friction on our footpaths and bickering in our bike lanes as a new transport hierarchy is negotiated, often with very different rules in different states.
Elliot Fishman, who heads Melbourne's Institute for Sensible Transport, recently carried out an experiment of riding a scooter instead of a bicycle to his office in Melbourne's CBD every day.
"My advice to any cyclists feeling defeated by road problems – all they need to do is hire an e-scooter for a week and they will discover e-scooter riders are currently at the bottom of the food chain on our roads," Fishman says.
Where do e-scooters belong?
In April, Victoria joined Queensland, Tasmania, Western Australia, ACT and the Northern Territory in allowing private e-scooters in public places.
While there is a nationwide ban on scooters that can go faster than 25km/h, there are different interpretations of where e-scooters belong and what speed limits should apply.
In Canberra e-scooters are only allowed on footpaths but not roads, but in Victoria the opposite rules apply, with scooters outlawed on footpaths as well as roads with speed limits over 60km/h. Other jurisdictions allow their usage on both.
One of the common complaints against rental scooters is from disability groups who say they often block footpaths and inhibit the movement of people in wheelchairs.
Shane Hryhorec, the managing director of disability support organisation Push Mobility, has taken Yarra city council to the Victorian Civil and Administrative Tribunal, alleging hire scooters and e-bikes breach disability access rights when left on footpaths.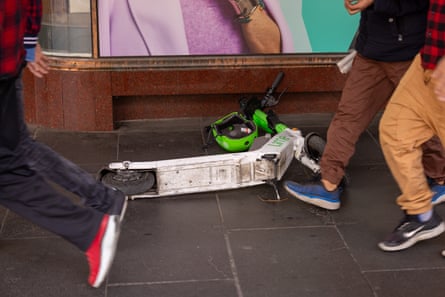 "The big problem now is that governments aren't giving scooter riders a safe place to ride or a safe place to park," he says.
"In many places, like Adelaide and Brisbane, scooter riders don't feel safe using the road so they go on the footpath and then people like me in wheelchairs don't feel safe using the footpath."
These problems are, of course, not unique to Australia. Paris has recently banned e-scooters outright, while Rome has a 6km/h speed limit in pedestrian areas and Oslo has banned e-scooter rentals.
Fishman says there are some fundamental safety issues with scooters that lead riders to seek out safer spaces. Scooters don't have the capacity to indicate, for example, and their small wheels and narrow handlebars mean it is not possible for riders to use their hands to indicate without losing stability.
"These issues would be fairly easy to fix from a technical perspective and such changes may become mandatory as scooters become a regular, permanent part of our personal transport matrix," he says.
The end of bike lanes?
In Queensland the speed limit for e-scooters was reduced in November from 25km/h to 12km/h on shared footpaths, with hefty fines for rule breakers.
Andrew Demack, the director of advocacy at Bicycle Queensland, says the speed of some scooters has presented problems on bike paths.
"Bicycle Queensland members have regularly expressed concern over rogue e-scooter riders who travel at speeds up to 60km/h on bikeways and shared paths, but those riders are very much a minority," he says.
However, many cycling organisations see e-scooter riders as potential allies in the push for more bike lanes, at a time when they are getting ripped up in Melbourne and Sydney.
"Bicycle Queensland supports more high-standard infrastructure which separates bikes from motorised traffic – and the rise of e-scooters certainly gives more impetus to that push," Demack says.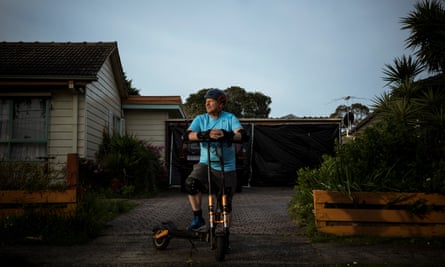 Peter McLean, the chief executive of Bicycle NSW and a councillor on Camden council in Sydney, agrees.
He believes it's time NSW legalised the use of private e-scooters, so they can be properly regulated.
"The horse has well and truly bolted in NSW with thousands of illegal e-scooters being used on our streets, so it's time to simply regulate and legalise them just like e-bikes," he says.
"Everyone is welcome on bike lanes and the more people who use them the greater the case for expansion,."
Not all fellow cyclists see it that way, however. Rohan Wrightman, who rides around Castlemaine in regional Victoria, says many cyclists still have a long way to go before they accept that bike lanes are no longer their exclusive domain.
"There is still a sizeable cohort of cyclists who feel entitled to bike lanes and are arrogant. With the increasing use of cycles and scooters to commute and the ageing population getting into mobility scooters, we need something to accommodate all these alternative modes of wheeled transport," he says.
Fishman believes the very concept of bike lanes needs to be revisited by urban planners.
"Our advice to governments now is to call new paths 'micro mobility lanes', not 'bike lanes', and to incorporate slow speed, light, small footprint transport that includes anything from a motorised wheelchair to bike and e-bike riders to people riding e-scooters and regular scooters as well," he says.
Hryhorec says micro mobility lanes would be a "wonderful idea" that would overcome some of the problems facing wheelchair users.
"Having a separate lane for scooters, e-scooters, bicycles and wheelchair users would be a huge advance on what's happening now," he says.
Whatever we call them, paralympian Cooke believes the key is more infrastructure and more cooperation.
"I have ridden all over the world and a lot through Europe," she says. "Everyone just needs to learn to share."