Welcome to this week's edition of the Steam Deck weekly. Feels like it has been longer than usual since the last feature, but here we are in the middle of November with quite a few game releases and tons of news relating to the Steam Deck. If you ended up trying to buy the OLED Steam Deck or the Limited Edition, let me know in the comments. I'm definitely not jealous of the Limited Edition model. In today's feature, I have full reviews of Railgrade and Forgive Me Father 2 (early access). Like a Dragon Gaiden released last week, and it includes a demo for Like a Dragon: Infinite Wealth (pictured below) which I've covered here. In terms of new Verified and Playable games news, it feels like Valve tested more than usual in the last week. There's also news to begin this week's feature. Let's get into it then.
News
Valve's own Half-Life has gotten its 25th anniversary update bringing in controller support (took them long enough), new maps, and a lot more. Check out the new 25th anniversary website here. There's also a lovely documentary about the game you can watch below and claim the game for free for a limited time on Steam if you don't have it yet.
SteamOS 3.5.5 is finally available on the public branch for everyone. This update adds the ability to adjust display colors, VRR support, HDR, support for the Steam Deck OLED, updated graphics drivers including improvements for Starfield, an updated Steam Deck Dock firmware, and much more.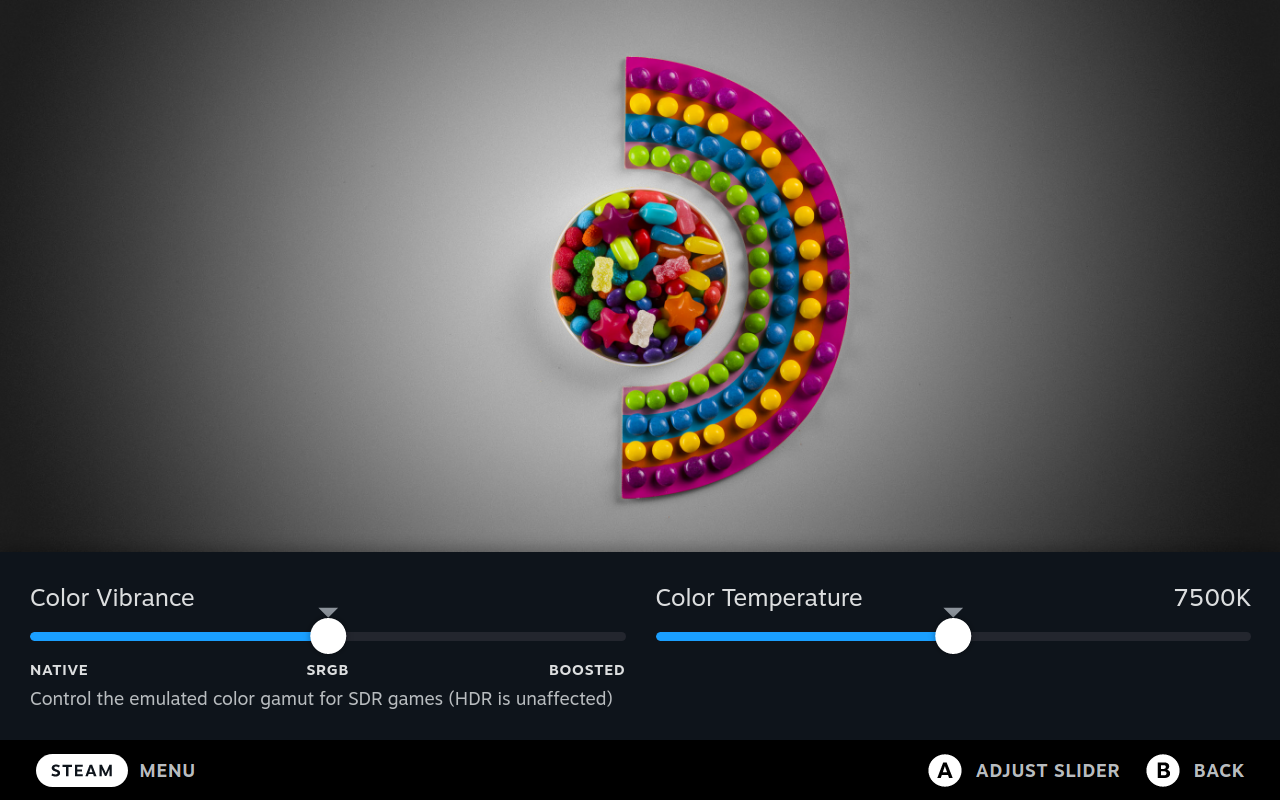 Valve is also celebrating the Steam Deck OLED launch with new startup movies from some of the best Steam Deck games yet. These include Hades, Vampire Survivors, Elden Ring, Persona 5 Royal, and Dead Cells. The movies are available on the Steam Points Shop here. I currently have the Vampire Survivors one enabled on my Steam Deck.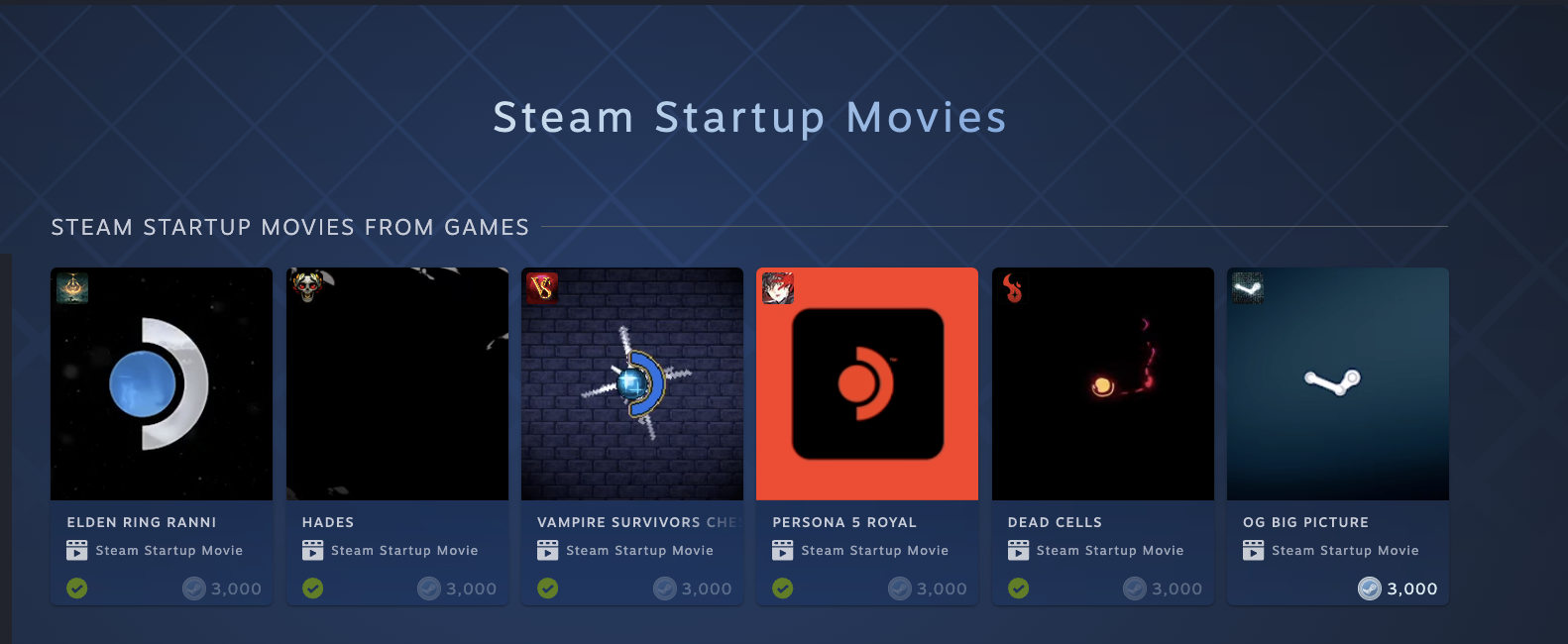 Two games I've been enjoying a lot on Steam Deck have gotten major updates recently. Lords of the Fallen has been getting multiple updates each week, but its newest one (since the last Steam Deck feature) brings in full online functionality on Steam Deck, fixes crashes on Deck, and has tons of other fixes and improvements. The full patch notes are here. Station to Station, which I recently reviewed, has gotten a major content update with five new levels in a new region, four new industries and buildings, the Stable, Corn Farm, Outpost and Gold Mine, and more. Watch the trailer for the update below:
Humble Games' Coral Island is out of early access, and it has launched on PS5 and Xbox as well a few days ago. I've been playing it on Steam Deck for review, and it does a lot of things I like in the life simulation genre super well, but has a few issues right now. Stay tuned for my full review next week. Coral Island is out and Steam Deck Verified.
Arc System Works and French Bread have showcased the opening video for the upcoming fighting game UNDER NIGHT IN-BIRTH II Sys:Celes that I'm very excited to play on both Switch and Steam Deck. The UNI games have amazing music and superb gameplay, and this one is looking brilliant. Watch the opening video below:
The excellent Lies of P got a major update on all platforms with balance adjustments, new content, and more. This update was accompanied by the soundtrack finally releasing. The soundtrack is out now on Steam and Apple Music.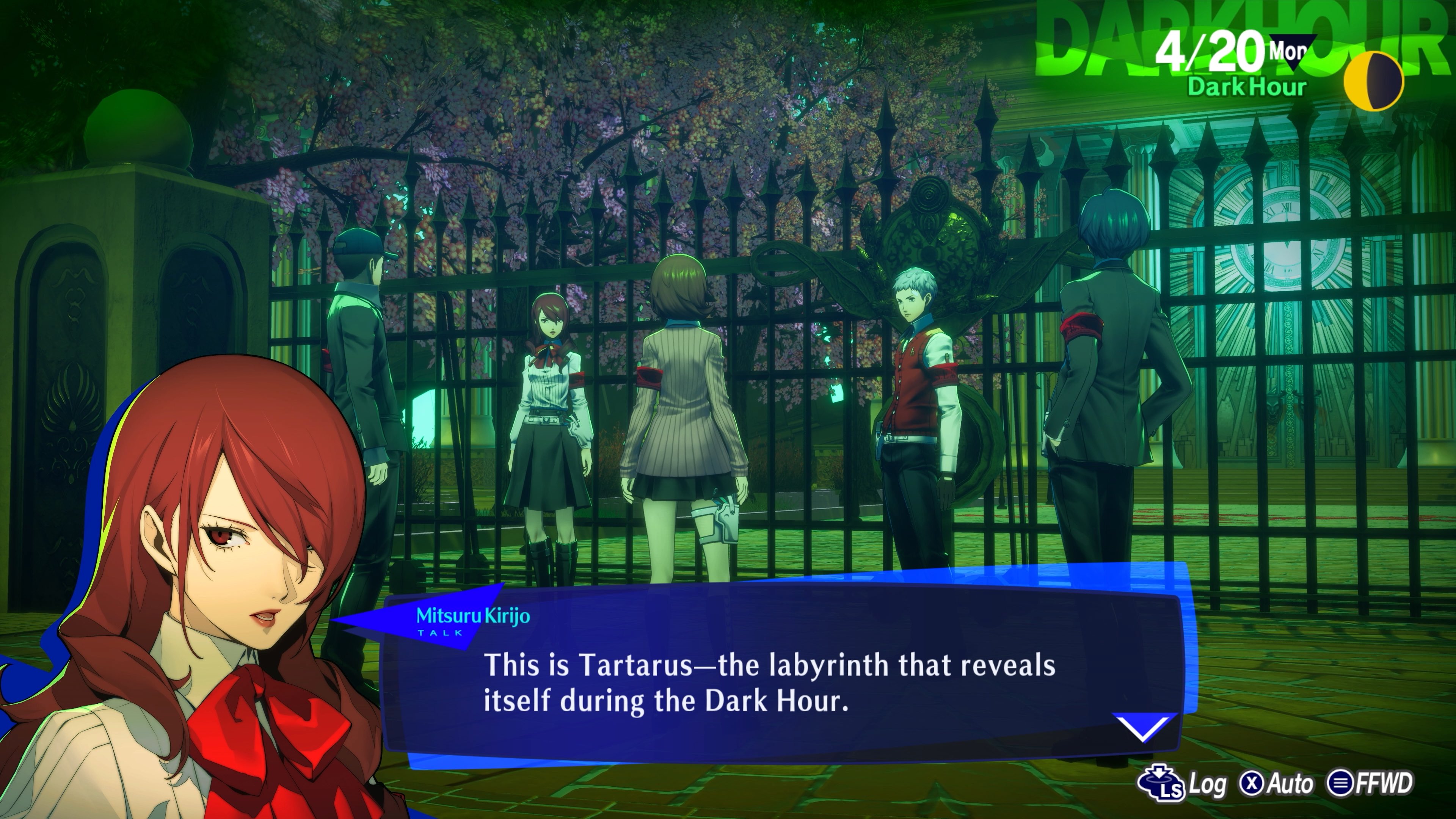 Atlus continues to reveal more about its upcoming remake of Persona 3, Persona 3 Reload. Alongside new screenshots, Atlus showcased the new S.E.E.S. Combat Uniforms, updated gameplay mechanics, new visuals of Tartarus (finally), and more. Check out a screenshot from the game above. This one is already Steam Deck Verified as well, months prior to launching. Before getting into the demo of Infinite Wealth later in the article, Like a Dragon Gaiden had an AEW collaboration. SEGA and AEW worked together to have a Like a Dragon Gaiden Street Fight on AEW Dynamite. Check it out below:
The recently-released early access game Caves of Qud got a major update bringing full Steam Deck and controller support. Watch the trailer for this update below:
The final bit of news is a teaser for the Dragon's Dogma 2 showcase set for later this month. Dragon's Dogma 2 is one of my most-anticipated games ever. Watch the showcase teaser below:
New Steam Deck Verified & Playable games for the week
Since the last feature, too many games have gotten tested and marked as Playable or Verified by Valve. Some include recent favorites of mine, while others include older titles. I've included all the highlights below: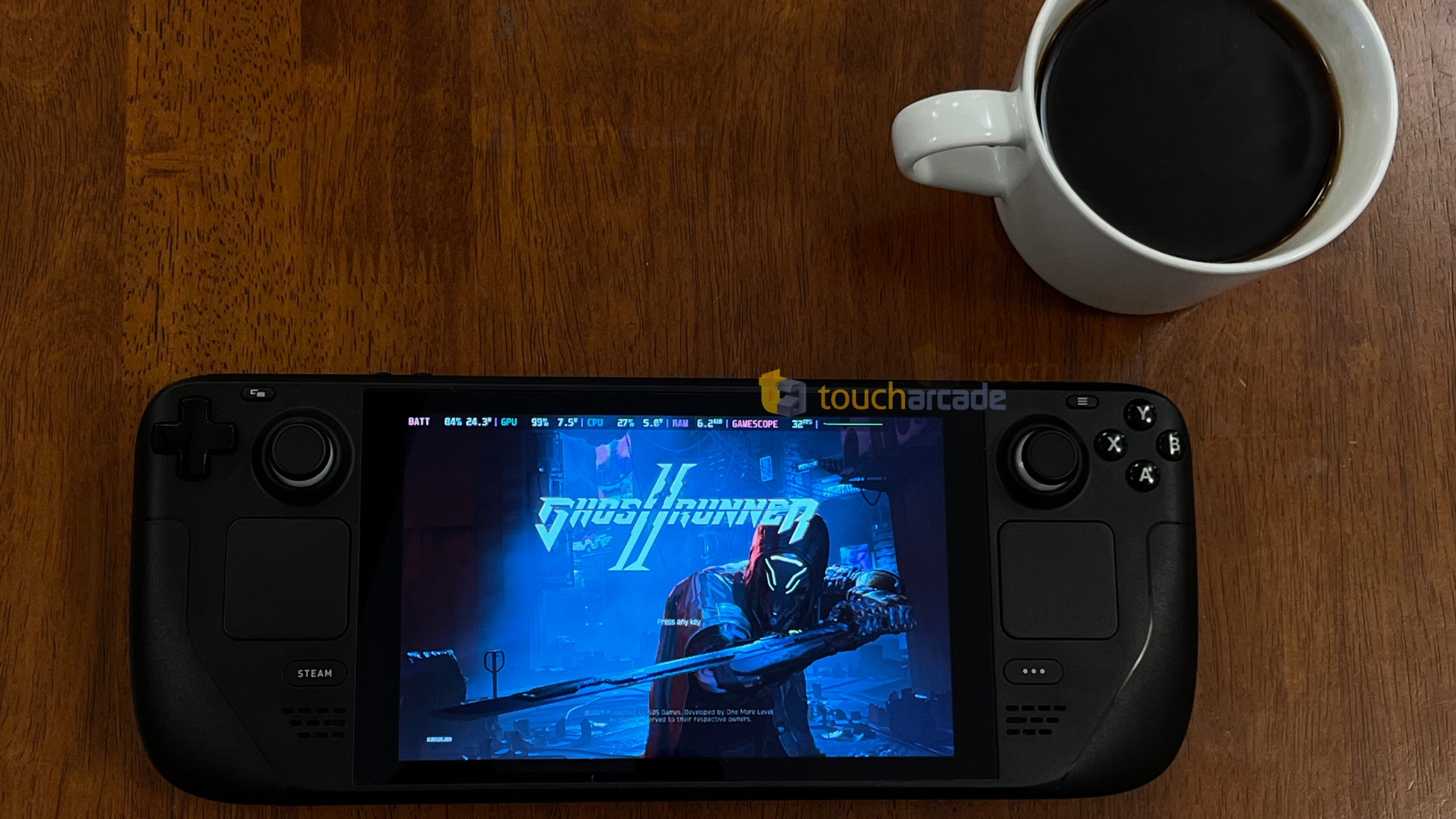 New Steam Deck Verified games:
Turbo Overkill
Half-Life (finally)
Ghostrunner 2
Soulvars
STONKS-9800: Stock Market Simulator
Turok 3: Shadow of Oblivion Remastered (spotted by TouchArcade reader Mor)
Saturnalia
Crypt of the Necrodancer
Alien Hominid HD
Cobalt Core
KarmaZoo
Void Stranger
New Steam Deck Verified games:
Stella of the End
Romance of the Three Kingdoms VIII with Power Up Kit
Planescape: Torment Enhanced Edition
Slay the Princess
The Grinch: Christmas Adventures
New Steam Deck Unsupported games: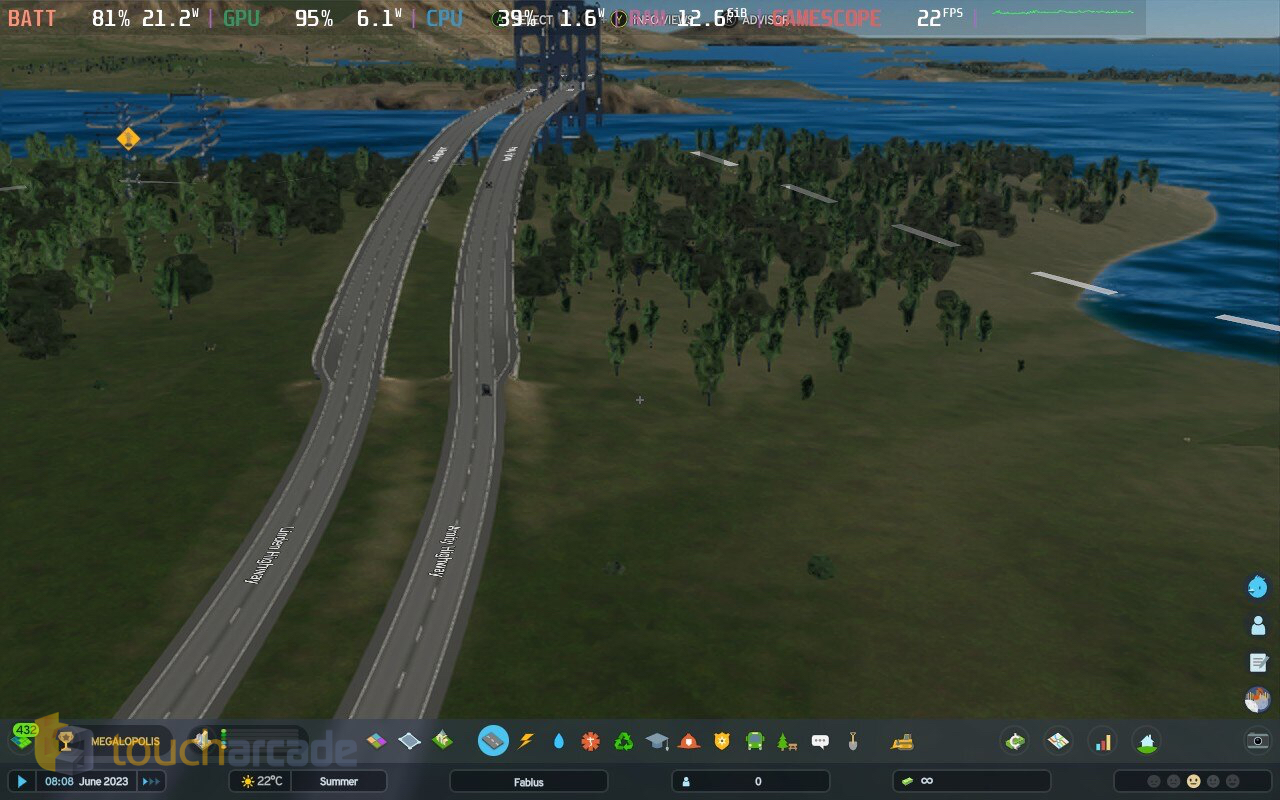 Given how rough Cities Skylines II is on modern high end PCs, I wasn't surprised to see it run awful on Steam Deck. This is one of the rare situations where a super popular game that runs really poorly is actually marked as unsupported and not Verified like we saw with Redfall. Cities Skylines II does boot up, but I really would not bother with it on Steam Deck right now given how it looks and runs.
Steam Deck Game Impressions & Reviews
Note: SteamOS 3.5 seems to have disabled the performance overlay in screenshots so you might not see that until I figure out how to enable it for future reviews. The Railgrade Deck photograph is from the Steam store page.
Like a Dragon: Infinite Wealth Steam Deck demo impressions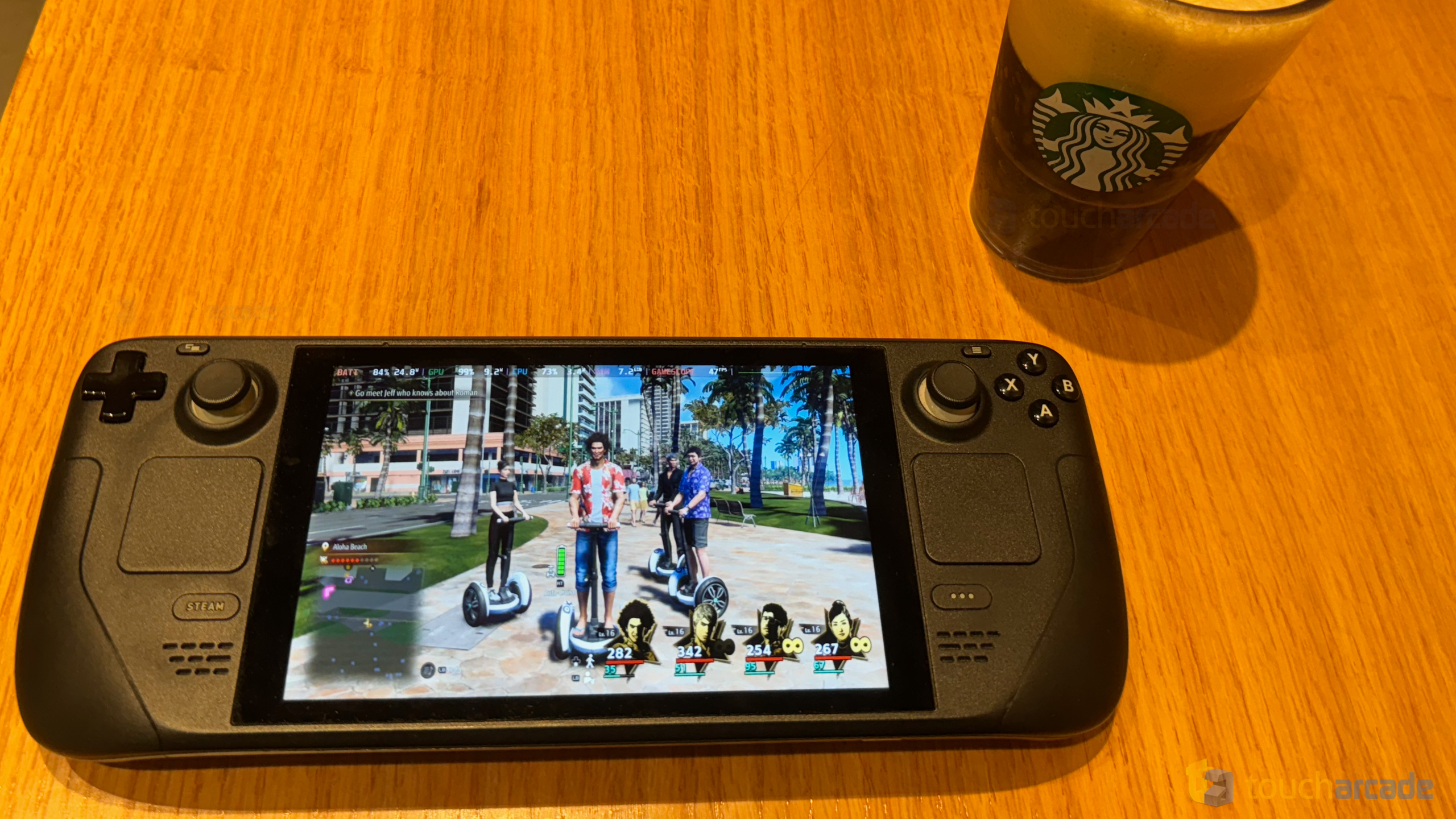 I obviously love the Like a Dragon series, and enjoyed Like a Dragon Gaiden a lot. Gaiden includes an unlockable demo for Like a Dragon: Infinite Wealth, and I've now spent 15 hours in the demo across PS5 and Steam Deck trying to soak up as much as possible before Like a Dragon: Infinite Wealth releases in January. Not only does Like a Dragon: Infinite Wealth start out strong in its Story Demo, but I absolutely love the side quests and mini-games included in the Hawaii Demo so far. The Japanese voice acting is also superb, but what is most surprising is how well Like a Dragon: Infinite Wealth runs on Steam Deck so far. Things are definitely looking good for the full game which I will be covering.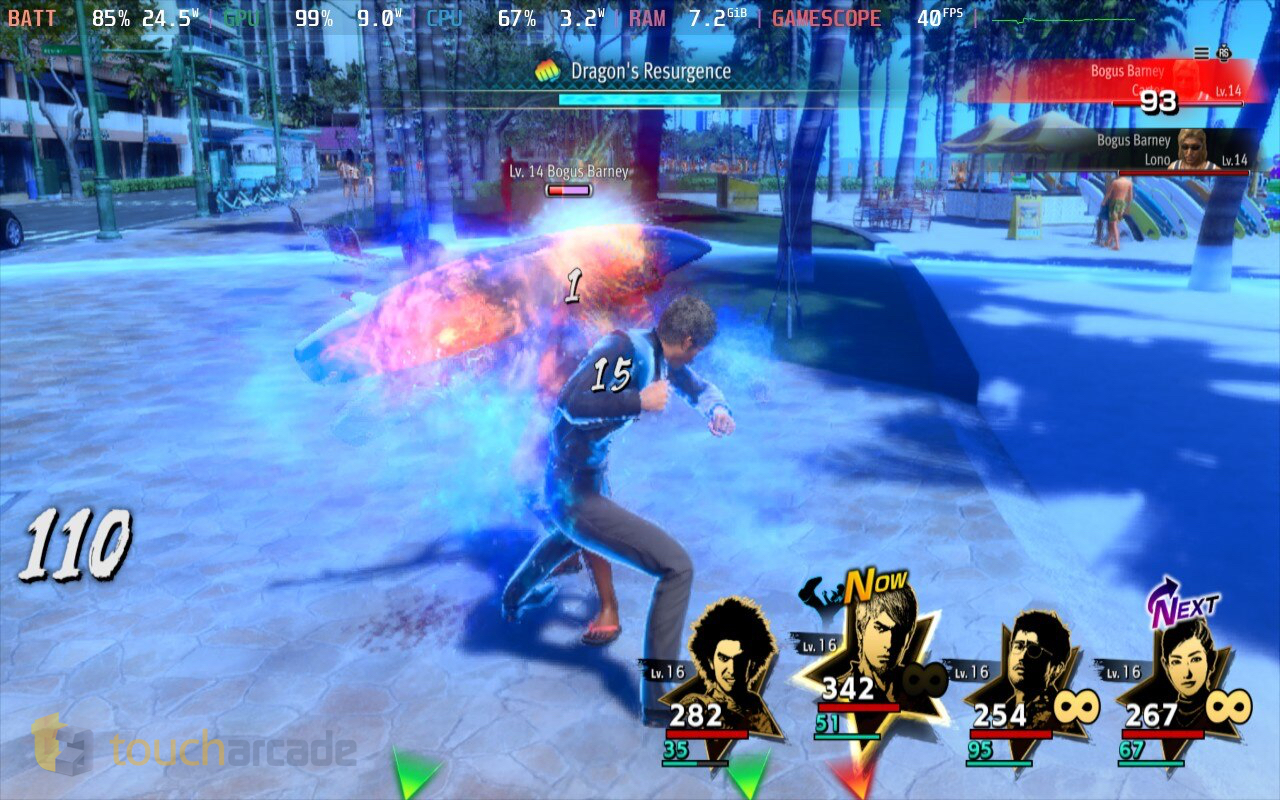 If you enjoyed Yakuza: Like a Dragon, but hoped that RGG Studio would sort out the few combat issues, it seems like they have nailed things here. I'm not sure how I feel about the various collectibles and items across the city though, but I'll reserve full judgment for the full game on that front. This is easily one of my most anticipated games in many years. If you are avoiding the demo to go into Like a Dragon: Infinite Wealth fresh, I would still recommend trying the Hawaii Demo if you've beaten Like a Dragon Gaiden just to see how fresh the setting is, and how good the combat feels here.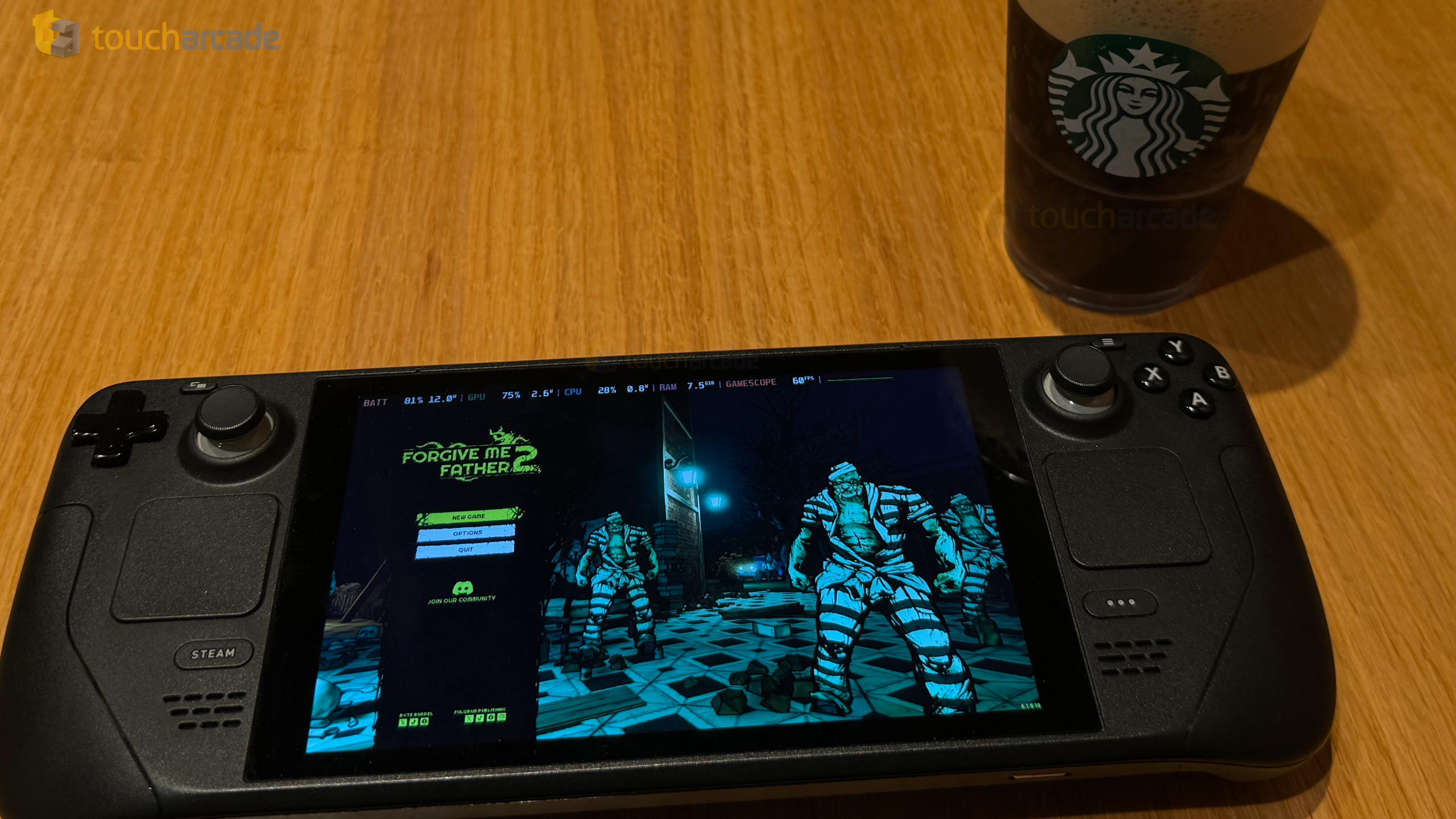 While working on part 2 of my best boomer shooters on Steam Deck feature, I've been sampling a lot of newer releases and games I missed for the first one. Forgive Me Father 2 from Byte Barrel hit early access on Steam last month published by Fulqrum, and it has been an absolute blast for the most part. It is currently in early access so I'm not putting a score down on it, but I have more good things to say about it in its current state. Forgive Me Father 2 basically takes everything the first game had and improves each aspect. It looks excellent, the gunplay is sublime, and the music is amazing.
Forgive Me Father 2 is planned to be in early access and launch in late 2024. That's a wait, but any fan of boomer shooters likely knows the drill by now. You either jump in early to play as soon as possible as the game evolves, or play said game at launch when it hits 1.0. You could also be like me and just buy a ton of games in the genre but only properly play them when they are close to 1.0 or if you want to write about the genre of course.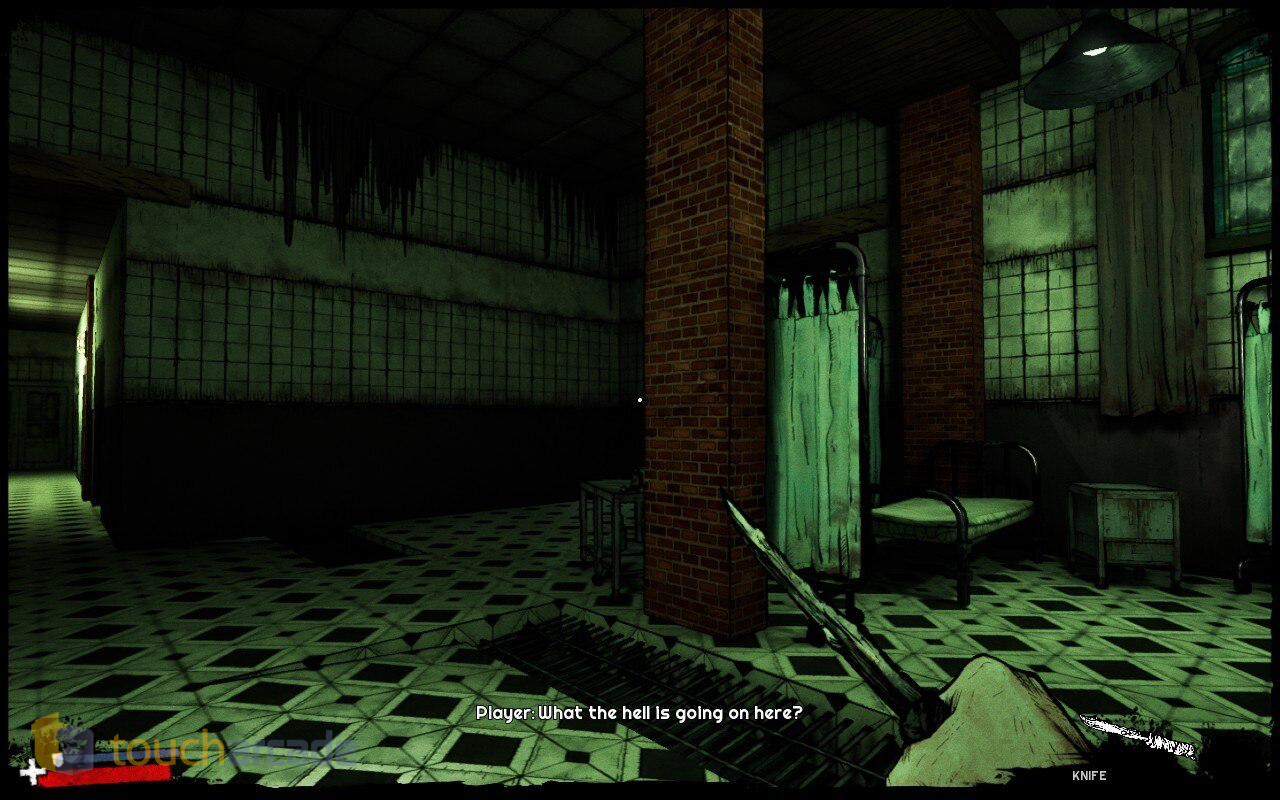 Forgive Me Father 2 even in its early access state right now, is gorgeous and fun to play. Just keep in mind that this is still early access and there isn't a full game here. If that's ok with you, jump in. Forgive Me Father 2 looks gorgeous, sounds amazing, and feels brilliant to play. It also fixed whatever I disliked in the first game. This is definitely shaping up to be special, but needs more time. I'll be covering it more as it gets closer to its full release.
Forgive Me Father 2 Steam Deck review score: TBA
Railgrade Steam Deck Review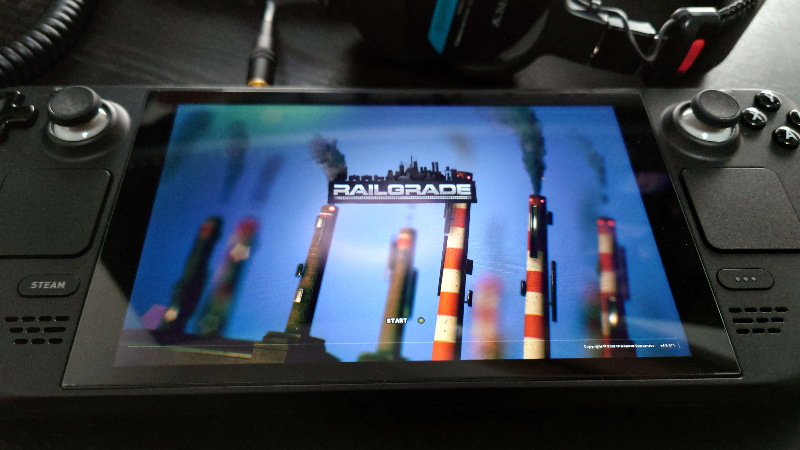 Railgrade isn't a new game since it hit Switch and the Epic Games Store last year, but it wasn't on Steam until a few weeks ago. Minakata Dynamics' blend of resource management, puzzles, some simulation, and loads of trains has been an absolute joy to play on Steam Deck since I got it, and I can't believe how much it already includes, with more to come in the future. As of this writing, Railgrade is Steam Deck Verified, and I really can't imagine not playing this on a handheld now.
On Steam Deck, I had no trouble running Railgrade at its default settings initially. I tweaked some things to improve the visuals while reducing shadows, and also forced PlayStation button prompts. I have no complaints with how Railgrade looks and runs on Steam Deck including full 16:10 support. It also includes a nice photo mode which I love seeing in games.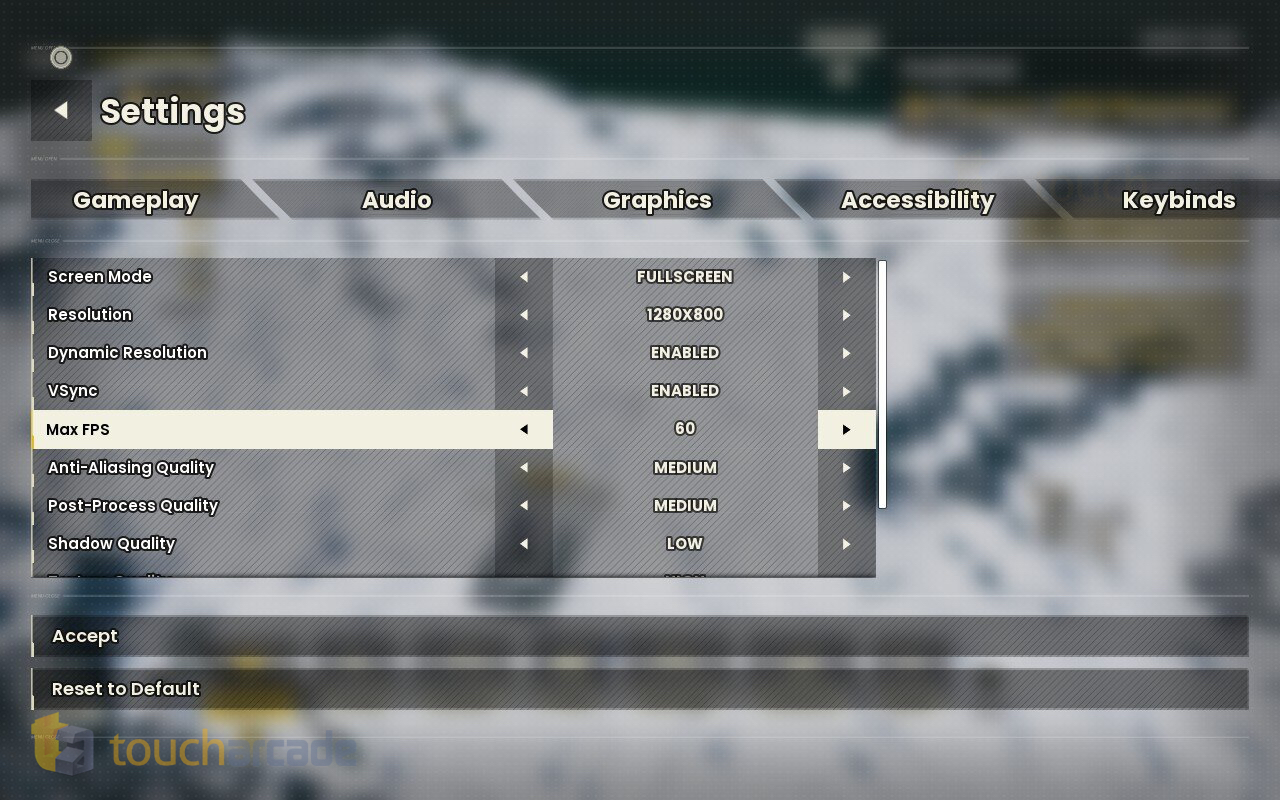 The campaign right now has more than 50 missions with more coming including a map editor and sandbox survival. Even if it didn't have any future updates, Railgrade is absolutely worth getting on Steam Deck as long as you know what you're getting into. Given the setting and aesthetic, I know many wanted a simulation or hardcore tycoon experience, but this isn't that. My only complaint is the music right now. It isn't as nice as the rest of the game, and I've been listening to my own music on my phone while playing.
In its current state, Railgrade is an easy recommendation if you enjoy trains and logistical puzzles. Just don't come into this expecting a simulation-focused experience. I never played Railgrade before the Steam version so can't comment on what changed or improved, but I see myself dipping into the game regularly over the coming months as a nice relaxing experience. The shorter mission structure also perfectly suits the pick up and play nature of the Steam Deck.
Railgrade Steam Deck review score: 4.5/5
Steam Deck Game Sales & Discounts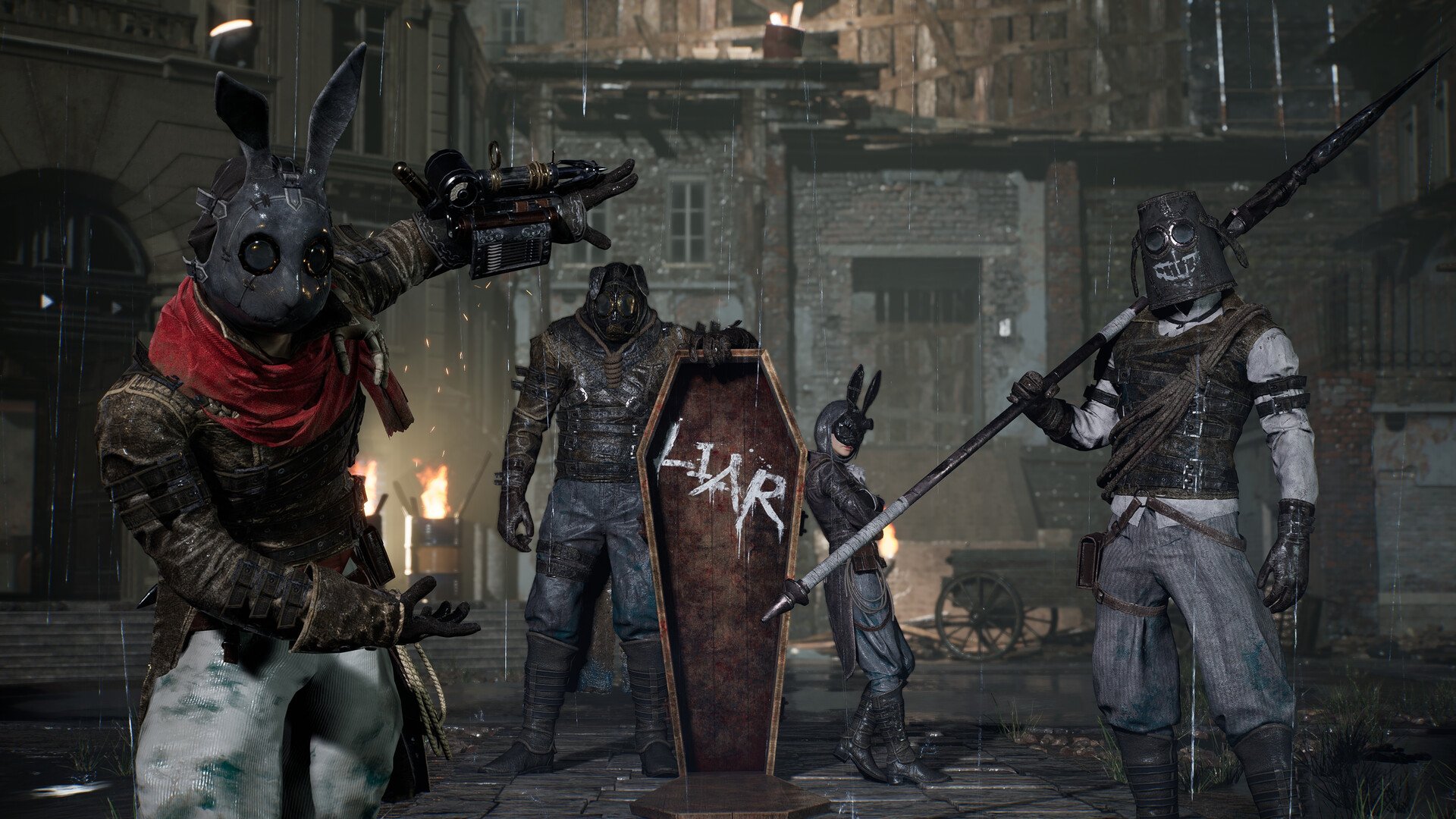 This week's notable game sales on Steam include Neowiz with Lies of P's first ever discount, the Earth Defense Force franchise sale with EDF5 coming highly recommended, and the Atelier Secret Series on sale right now.
That's all for this week's early edition. As usual, you can read all our Steam Deck coverage here. If you have any feedback for this feature or what else you'd like to see us do around the Steam Deck, let us know in the comments below. I hope you all have a great day, and thanks for reading.